The Elements of Good Web Design
When you want a website that takes the level of your company's performance to a more lucrative level, you must pay attention to the details of your website design. Take your time, find the perfect website design team, and then establish communications with them that promote a successful project. What are the elements of good design for your Oakville-based company? Use the tips below to help you facilitate a positive conversation with any potential website design team that you may interview.
Good visuals. Your website should be simple, neat, uncluttered, and easy to read. Ask your team of website design in Oakville professionals to use easy to read fonts, a balance of pleasing colors, and images that convey the message that you want visitors to your website to understand. Make sure that they use the white space on your pages to frame the content and to emphasize the points that you deem important to your message.
The content on your website should be clear, concise, and easy to scan. Visitors will take little time to read wordy sentences that don't answer questions quickly. Your content must be credible and authentic to send the right message about your company. You can use content to establish your company as an authority in your niche.
Moving around on your website is a crucial element. Visitors want to get the information that they need and to order your product as quickly as possible. Keep pages uncluttered, your call to actions easy to follow, and streamline the navigation as much as possible. Ask your designers to use the three-click rule meaning that your visitors can find what they need within only three clicks.
After the visitors find what they need, you must convert them to sales as effortlessly and as quickly as possible. Test the color, size, and placement of this feature with your design team until you achieve the criteria that work best for you.
In order to increase your client base, you have to gain their trust. You'll achieve this by providing them accurate and credible information about your product or services. Establish your company as a useful resource and include any links that help attest to your knowledge of the problem and how your product would be the ideal solution for the visitor.
Mobile compatible. With today's shoppers continually on the go, it's crucial that your website be compatible with mobile devices. Ask your website designer about their experience in this area so that your company website is available on the devices of potential clients.
Quality images. You may have a plethora of images that you want to use on your website but most website designers have libraries of professional images that will enhance the look of your web pages. Consider using their materials so that yours will truly be a professional-looking website.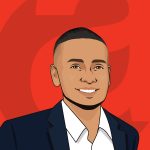 About the author
I'm nobody's taxi service but I take pride in driving the bus! Upbeat, energetic serial entrepreneur on the quest to serve and help people. I enjoy long walks on short beaches and adventurous, adrenaline-pumping activities. I'm a normal bloke doing abnormal bloke things!
Read more posts by Adam