Web Design Whitchurch-Stouffville
Web Design Whitchurch-Stouffville
Web Design Whitchurch – Stouffville
The Whitechurch-Stouffville community is swiftly embracing our high-end professional web design services. We have tailored our services with an aim of achieving the best results for businesses and individuals. We represent your brand correctly and advance your business marketing efforts.
At Ankit Designs, we understand the critical nature of your website. We want your online presence to reflect your offline business. We know that your website is an anchor in your sales funnel. That's why we craft designs that are clean and don't dilute your sales message.
The hub of business marketing
Your customized web design can act as the hub of all your marketing efforts both online and offline. We design your website and ensure all the marketing materials target the right customers and send them directly to the right pages. At the same time, all that material can be branded with the same messages and images that are on your website.
Your customers will see the continuity of your message throughout the whole process. That will allow you to develop your brand at the same time that you nurture your customer connections. You'll distance yourself from every other website that Whitchurch – Stouffville residents will come across when they shop online.
Compete with larger brands in your industry
You may have a unique product to sell or message to give. In a way, you have a unique story that goes along with it. That story is part of your brand. It is what makes your business stand out from all the others. A customized web design by our experienced web design team will feature your story in a way that will allow you to compete head-to-head with any larger brand in your industry. You will be able to tell your unique story in a way that will enhance personal connections and develop better leads.
Transform browsers into buyers
You don't want people just browsing on your site. You want them to develop a connection with you. The right message, displayed in the right way, using the right layout and tools, will get the right people to trust you. That confidence will make it easier for them to buy from you.
Along with that trust, a customized web design from our highly regarded web designers will not only give your customers a user-friendly experience but also optimize your site so that it displays well on all computers, tablets, and mobile devices. Customers will like you; Google will love you too.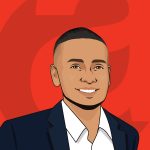 About the author
I'm nobody's taxi service but I take pride in driving the bus! Upbeat, energetic serial entrepreneur on the quest to serve and help people. I enjoy long walks on short beaches and adventurous, adrenaline-pumping activities. I'm a normal bloke doing abnormal bloke things!
Read more posts by Adam