Little Known Outsourcing Secrets for Web Development Caledon Projects
Major web projects can be a major headache. Minor web development issues can jam up your team with petty technical details. That is not the best use of your resources. When it comes to web development, Caledon businesses that run most efficiently know the secrets of outsourcing the work. They give the highest priority to doing what they know best and delegate the rest. So what can you expect when you delegate to an outsider?
Look more professional
You are competing with the world when you have an online presence. It is no longer good enough to have a basic web presence. Your reputation is at stake. You need to impress your target audience and to get them to take action. You need a professional who can tailor your site to the needs, wants and desires of your customers.
You also need someone who will take on all the technical details that go into getting your message out in a way that attracts the customers and the search engine. You don't have time to keep up with all the changes in the internet every week. Let someone else do that for you and give your site the professional appearance that you need.
Save time
Because there are many moving parts in web development, businesses can get overwhelmed with detail. Time management goes out the window. Resources that would best be used for business get used up in a black hole of the project. People who should concentrate on customers have to get caught up instead with programs and learning.
You can spend weeks creating a simple website. You have to plan out each page. You have to know how the site will flow and how to get your customer's attention. You need to determine how the website fits into your overall marketing strategy. That is just some of the creative work.
When you outsource this work to the right web development Caledon professionals, they will take much of it off your agenda. They will ask the right questions so that your message and your site will get the right response.
Focus on core activities
Your business will suffer if you have to take the time to perform non-core activities. The quality of your service to your customers will suffer while you get distracted with managing a web project.
On the other hand, a professional web developer has a reliable system already in place to tease out state-of-the-art web design. They have a repeatable process that ensures skilled work is done quickly. Part of that work involves plugging in with your team to ensure that every expectation is met.
Offset weakness
Outsourcing your web development work is a great way to offset any weaknesses in your team or your business. Even if you only delegate part of the project to a web development Caledon company, you will increase the efficiency of the talent you have and thrive in a cut-throat economy.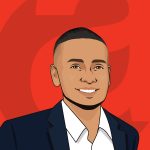 About the author
I'm nobody's taxi service but I take pride in driving the bus! Upbeat, energetic serial entrepreneur on the quest to serve and help people. I enjoy long walks on short beaches and adventurous, adrenaline-pumping activities. I'm a normal bloke doing abnormal bloke things!
Read more posts by Adam