Designing a website Stratford: importance of Colour
Although colour scheme is often overlooked, it plays an important role in designing interactive website. While visitors focus on the appeal of the website, the colour scheme is what truly emphasizes the big picture. When it comes to choosing colours, it is best to limit up to 3 colours. The more colours you include, the more clustered it feels. Also, maximizing up to three colours helps the website look consistent throughout the website. The more consistency, the better. The usage of colour poses as a means of delivering presentation and advertisement as they are the most effective tool for designing a website.
Color scheme is considered to be important in website design because it holds the power to invoke feelings with the associations of colour. For example, the colour yellow may represent happiness while the colour blue may represent tranquility and so on. When creating a website, being innovate with your creative use of colors in an effective manner will make your website professional and delivers right message in a right way.
Perfect color schemes also plays a major role in increasing business profitability. While designing a website, it is sometimes hard to decide which colours suit your company best. Therefore, colors for a website design are almost as important as the overall design itself. If you learn how to incorporate the use of colour as a marketing strategy, You can use colors to create a welcoming approach.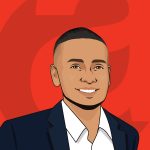 About the author
I'm nobody's taxi service but I take pride in driving the bus! Upbeat, energetic serial entrepreneur on the quest to serve and help people. I enjoy long walks on short beaches and adventurous, adrenaline-pumping activities. I'm a normal bloke doing abnormal bloke things!
Read more posts by Adam