Make a Website For Your Oakville Business
When it comes to creating a website, having a responsive outreach accompanied with platform compatibility is one of the prime foundations towards digital marketing success. Since website design is synonymous to providing your first impression, it is important to possess an aesthetically pleasing outlook as well as proper functionality. If you plan on creating a website, there are modern trends that prove accomplishment in the business realm.
Despite being overlooked as one of the pinnacles of developing a website, typography holds its own importance. The font face used within your designs is a powerful tool which determines readability, legibility, and the relevance of content as a whole. Once you reach your decision on what font face you should choose, you should keep it consistent throughout your website.
One of the current trends that still holds dominance in minds of web designers is the flat/minimalistic design. The advent of the flat/minimalist aesthetic emphasizes well with typography. With the clean and simple template, it provides more opportunity to showcase the most important elements of a web page. Flat and minimalist elements comprise the most requested, discussed, and imitated designs in the world today. Following the trend will guarantee that your website will generate sales and revenue.
If you are looking for a start to creating a website, Ankit Designs is willing to help you prepare and empower you on the world of website designing. Making a website is deemed to be difficult with the code language. We are here to ease the challenge and we promise to deliver the best of the best.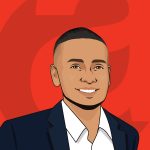 About the author
I'm nobody's taxi service but I take pride in driving the bus! Upbeat, energetic serial entrepreneur on the quest to serve and help people. I enjoy long walks on short beaches and adventurous, adrenaline-pumping activities. I'm a normal bloke doing abnormal bloke things!
Read more posts by Adam