Hire A Web Designer For Your Stratford Business
At Ankit Designs, we offer a variety of Web design services, catering to a range of small scale businesses to a larger company. Driven to produce a better impact on your business, incorporating proper functionality, as well as coinciding with the current web design trends, Ankit Designs is comprised of a team of website and SEO expertise to ensure that your goals are way beyond what you have expected.
With Ankit Designs, you get a full-service web design company that offers proficiency in website design, responsive websites, database & custom programming, content management systems, search engine optimization, and other attributes that are needed for the web. Based in Mississauga, we build websites for clients across the GTA such as Vaughan, Milton, and Stratford.
One of our services includes our continuous support during the development project. As we collaborate and exchange our ideas with each other, we keep you updated in our process. The sole purpose of that is to ensure that you are satisfied with where our process is heading towards. If you would like to include or omit some changes, we are willing to tackle down any task. Regardless, we deliver content with a quick turnaround rate without losing the lustre of your website. While coding, we ensure that we use up-to-date coding for the purpose of luring out any malicious activity. Moreover, we offer web hosting packages that are set to an affordable price at each month. Each package includes noteworthy attributes that help you make your website come to digital life. If you want to find out more about the company and their work, please visit the site and check out our portfolio.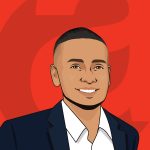 About the author
I'm nobody's taxi service but I take pride in driving the bus! Upbeat, energetic serial entrepreneur on the quest to serve and help people. I enjoy long walks on short beaches and adventurous, adrenaline-pumping activities. I'm a normal bloke doing abnormal bloke things!
Read more posts by Adam