Web Design Oakville
It's no secret that most Oakville residents are exploring the internet using Smartphones and other handheld devices. Today, almost everyone connected to the internet logs on via a mobile device. These are people who are shopping for new clothes, looking for places to eat and even trying to find business opportunities in every industry. We understand that Oakville businesses and residents are in need of responsive websites to capitalize on all this traffic. Our Mississauga Company provides comprehensive web design solutions for residents of Oakville.
Responsive web design
At Ankit designs, we understand that building one version of the same website for those customers who use iPhones and another for customers who use Android phones, laptops, tablets and so on is impractical. The solution lies in designing one website that responds and adjusts itself according to the device the client uses to connect. Our Mississauga Company extends quality responsive web design services to the Oakville community.
Ranking
On the 21st of April, 2015, Google expanded its website ranking factors. On that list, which includes relevant, high-quality traffic, videos, backlinks and so on, they added on 'mobile-friendliness' as an important ranking factor. What this means is that Google now pays particular attention to websites that are mobile friendly and those that aren't will slowly get ignored or ranked lower by the crawlers. Our top notch web designers employ techniques to ensure that your website is totally responsive.
Compatible with every platform:
Researchers project that in just three years, the number of people using their PC to access the internet will be significantly less than the number of people using their mobile devices to do the same. If this trend continues, soon everybody with internet access will be logging on via their mobile device at one point or another. This should be a reason for you to hire the services of our web design company. We have an experienced team of web design and SEO engineers who create wonderful responsive websites. We are providing web design solutions for Oakville residents that enable them to position themselves globally. We have dedicated a team of highly experienced professionals who creatively craft excellent websites that are compatible with every platform.
Oakville residents are embracing online services at a high rate. We support the growth by providing tailor-made web solutions with the highest degree of professionalism. Call us today for a discussion with our highly qualified web design experts.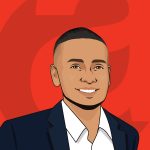 About the author
I'm nobody's taxi service but I take pride in driving the bus! Upbeat, energetic serial entrepreneur on the quest to serve and help people. I enjoy long walks on short beaches and adventurous, adrenaline-pumping activities. I'm a normal bloke doing abnormal bloke things!
Read more posts by Adam