Hellooooo from #DoYouHaveAPartner!
Welcome to the first entry of the – Do You Have A Partner blog series from the Team @ Ankit. I suppose we didn't have to say 'first entry' when it says 'inaugural' in the title address. Ah well, what's a bit of redundancy when you're this stoked! Now, where did we leave our yacht and champagne bottle to get this launch done properly? Adam – can you check into that for us? There is a bit of ritualistic tradition steeped in superstition by which mariners abide; so we'll find a digital bottle and yacht to keep us in good seas.
As the URL aptly describes, this blog's narrative is that of your digital branding partner in business. We will break down the knowledge barrier that challenges many companies seeking appropriate web services to establish and pervade their brand. We certainly don't guide ourselves by clichés at team Ankit; however, we do live our axioms through our actions. You need only ask our current clients about that. Notice we didn't say: "our current and past clients"? That's because a partner doesn't leave a partner. Our relationships are built for longevity and we just can't let our clients go.
That's enough patting ourselves on the back for now (even though it may be warranted)!
We stand at the ready to provide tips, consultations, and insights to help your company or organization reach the heights to which it aspires.
– A sincere thank you from Team Ankit for reading –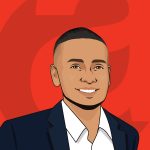 About the author
I'm nobody's taxi service but I take pride in driving the bus! Upbeat, energetic serial entrepreneur on the quest to serve and help people. I enjoy long walks on short beaches and adventurous, adrenaline-pumping activities. I'm a normal bloke doing abnormal bloke things!
Read more posts by Adam