Don't Make Your Customers Play Pictionary: Tag It!
Don't Make Your Customers Play Pictionary: Tag It!
The other day I was perusing the current website of a potential client we were pre-qualifying. After a solid 5 minutes of working through the pages I was unable to clearly identify what manner of business this website represented. In some ways this is a client we would definitely want to procure because there would be an obvious need for a strategy overhaul. On the other hand, it would mean dealing with someone who has put minimal thought into their brand. This client did not have any brand platform of which to speak. Were you to speak to them, they could provide you with their competitive advantage, but they struggled to find a way to articulately deliver it.
Most people identify a brand simply by a logo alone. There is no possible way to effectively communicate the all-encompassing salable qualities of a business with just a logo. The only businesses that can get away with this type of minimal branding would be an already established brand with decades of notoriety; as an example, Nike and its swoosh. This is the result of the entire planet being inundated with 'Just do it' for the last 40 years.
For the rest of us trying to get to 'Nike' brand status, a logo needs an accompanying statement that adequately conveys the following:
·      The business you're in
·      The difference your brand delivers over the competition
·      The commitment your business has to its consumers
·      The problem your product or service addresses that others do not
So how do you come up with this much-ballyhooed single line to identify your brand with consumers? Taglines are not meant to be a biography of Johnny Inc. They're meant to communicate one specific go-to-business marketing angle that resonates with consumers. Consider the following example:
Dollar Shave Club
Tagline: 'Shave Time, Shave Money'
Here is what this simple tagline conveys:
·      This product & service offering is focused on providing value and convenience
·      Price consciousness is paramount
·      They've pinpointed a distinct consumer frustration (purchasing of razors)
·      They're engaging in humour as a delivery method for their narrative
Crafting an intelligent and memorable tagline requires collaboration and a focus on understanding the assets your company boasts, and how best to communicate the appeal of those assets via a single line of engaging copy. Do not discount the importance of consumer interpretation and its impact on your bottom line.
The best tagline tip:
·      Constantly read, view, and interpret your tagline ideas from the objective viewpoint of your potential consumers. Does it come across the way in which it's intended? Investigate the taglines of products you personally use and assess your reasoning as a consumer of these.
See ya next time,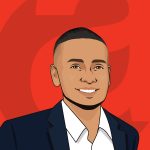 About the author
I'm nobody's taxi service but I take pride in driving the bus! Upbeat, energetic serial entrepreneur on the quest to serve and help people. I enjoy long walks on short beaches and adventurous, adrenaline-pumping activities. I'm a normal bloke doing abnormal bloke things!
Read more posts by Adam