CMS – The Infrastructure of Digital Billboards
CMS – The Infrastructure of Digital Billboards
These days most people are familiar with the acronym CMS, which stands for Content Management System. In our experience though, that is usually where the familiarity ends. Many businesses have a difficult time understanding the needs of their current online presence, and what may be required in the future. Let's assess the parameters of both sides so that you can separate the 'needs' from the 'nice-to-haves'. We all know business is perpetually focused on the bottom line; however, sometimes it's about spending now, to save in the future.
Think of the CMS or no CMS discussion like that of the difference between old-style billboards with painted-on information versus a digital billboard that can be easily programmed with updates. Now think of how much work and cost is required to take down the old style billboard, sand it down, and repaint a different message on it. In this example your start-up costs are lower with the old style billboard but more expensive in the long run. The digital billboard certainly costs more upfront because a dynamic infrastructure has been built with the ability to easily change for future messages.
Do you need a CMS? Ask the following questions:
1. Is your business's website utilized as a feeder for lead generation and information dispersal?
2. Does its industry of focus routinely see news about advancements applicable to potential clients?
3. Does the website receive return visitors in large numbers on a consistent basis?
** If you answered yes to the above – you need a CMS.
———————————–
Here's the other side of the coin. Ask the following questions:
1.  Is your website reserved mostly for contact and unchanging industry information?
2. Is the traffic to the site minimal and usually centered mainly on 1 or 2 pages?
3. Does very little of your business clientele communicate or seek out your digital assets?
** If you answered yes to the above – a CMS is not a prudent expenditure.
Business decisions require a solid understanding of one's own offerings and the related interactions in the online space. The more you know about your business, customers, and the landscape in which the communication will happen; the better prepared you will be to allocate marketing dollars in the right areas.
See ya next time,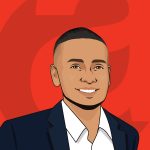 About the author
I'm nobody's taxi service but I take pride in driving the bus! Upbeat, energetic serial entrepreneur on the quest to serve and help people. I enjoy long walks on short beaches and adventurous, adrenaline-pumping activities. I'm a normal bloke doing abnormal bloke things!
Read more posts by Adam