Corporate Event Centre
Goal
Build a modern, responsive website for both desktops and phones with room searching functionality, and refresh their company brand.
Corporate Event Centre is a premier, multi-purpose facility with modern and flexible amenities for a wide variety of purposes, but their old website didn't reflect that. It was difficult to navigate and didn't highlight the facility's many outstanding features. We worked with their marketing team to build a new website showcasing their many room configurations, all the offered services, and finding relevant information a breeze. Bold brand colours and images of the space take centre stage, while keeping text highly legible and AODA-approved.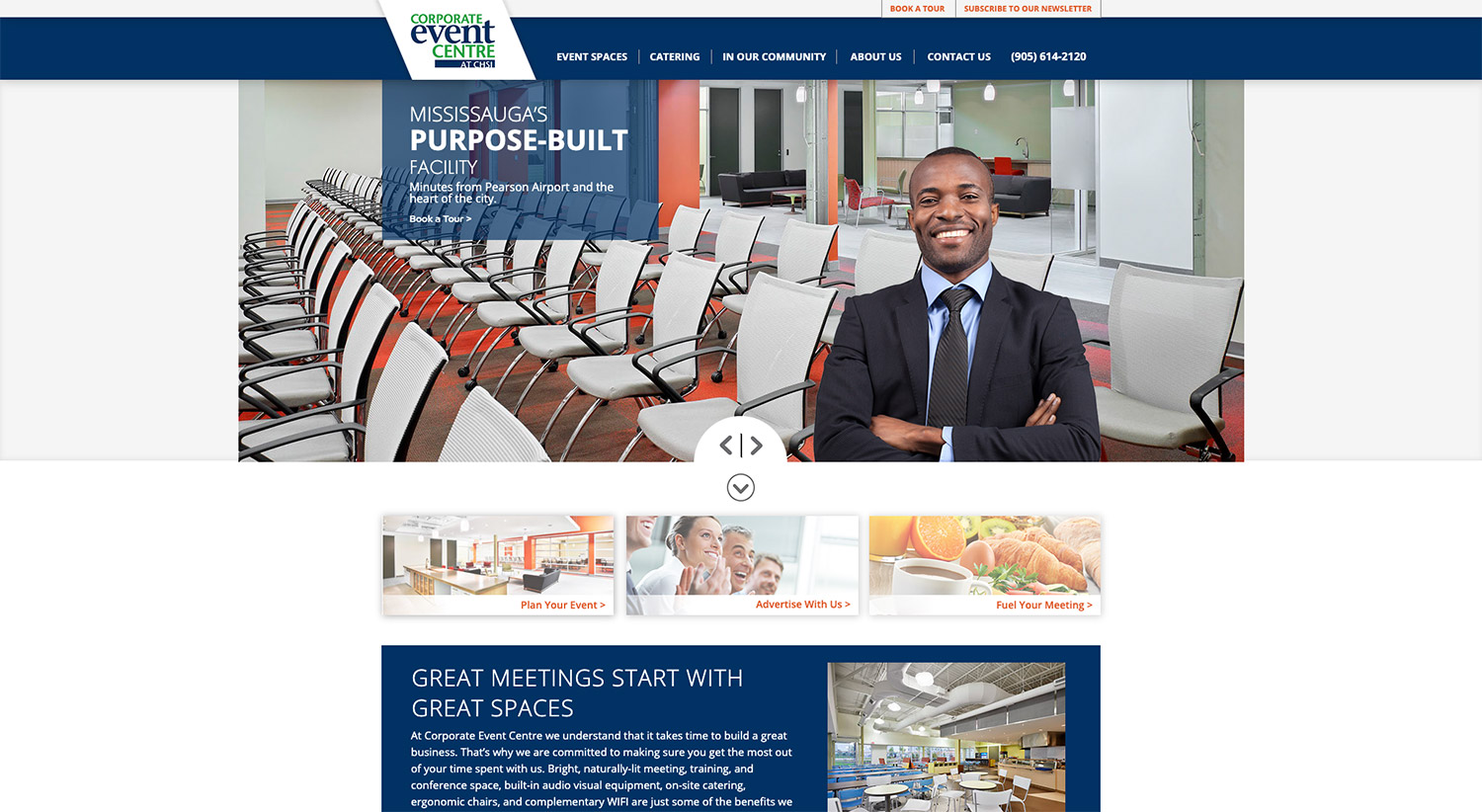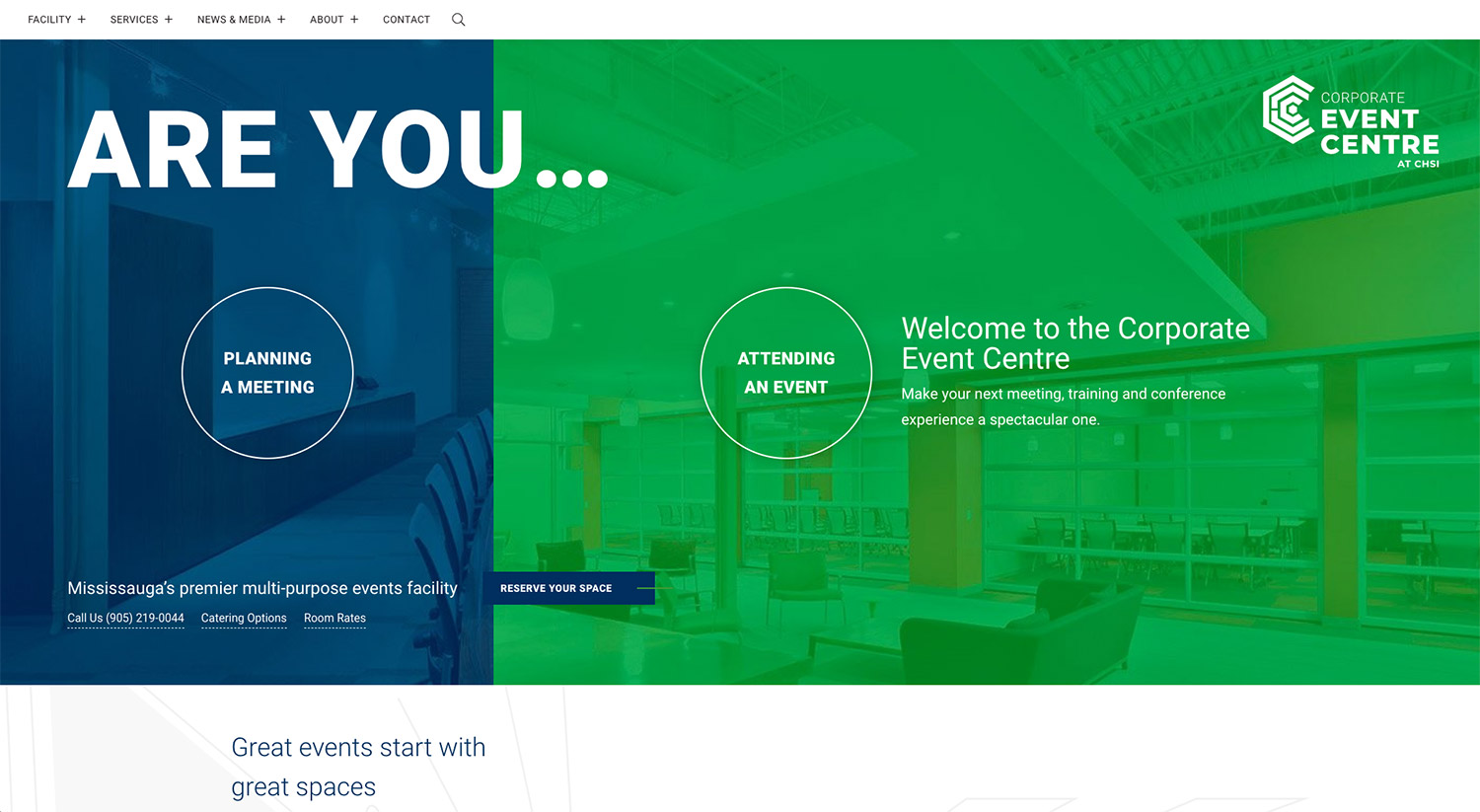 The Client Says
What can I say about Ankit Designs Inc…? From the very beginning, I knew they were the right decision for our website and logo design. Their knowledge, forward-thinking mentality, creativity, strategic focus and project management coordination kept our project on task and surpassed the expectation.
I highly recommend Ankit Designs for any of your digital needs.
One of the highlight features of the new Corporate Event Centre website is the ability to easily search their available rooms based off a wide variety of features. Are you looking for a large theater space for 200 individuals? A boardroom for important meetings? Or are you a non-profit of 20 concerned with keeping your bottom line? Users can search by room capacity, configuration, and price.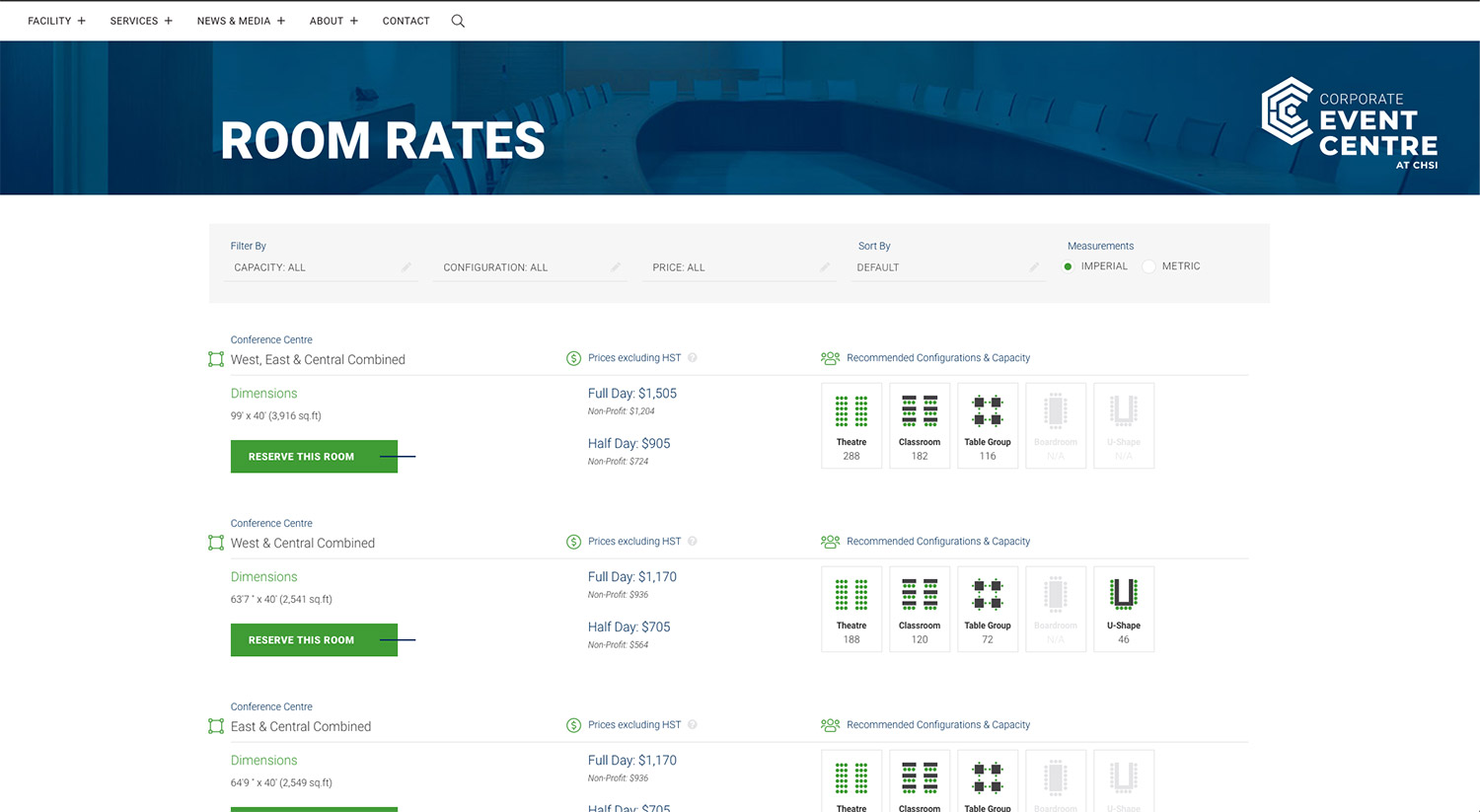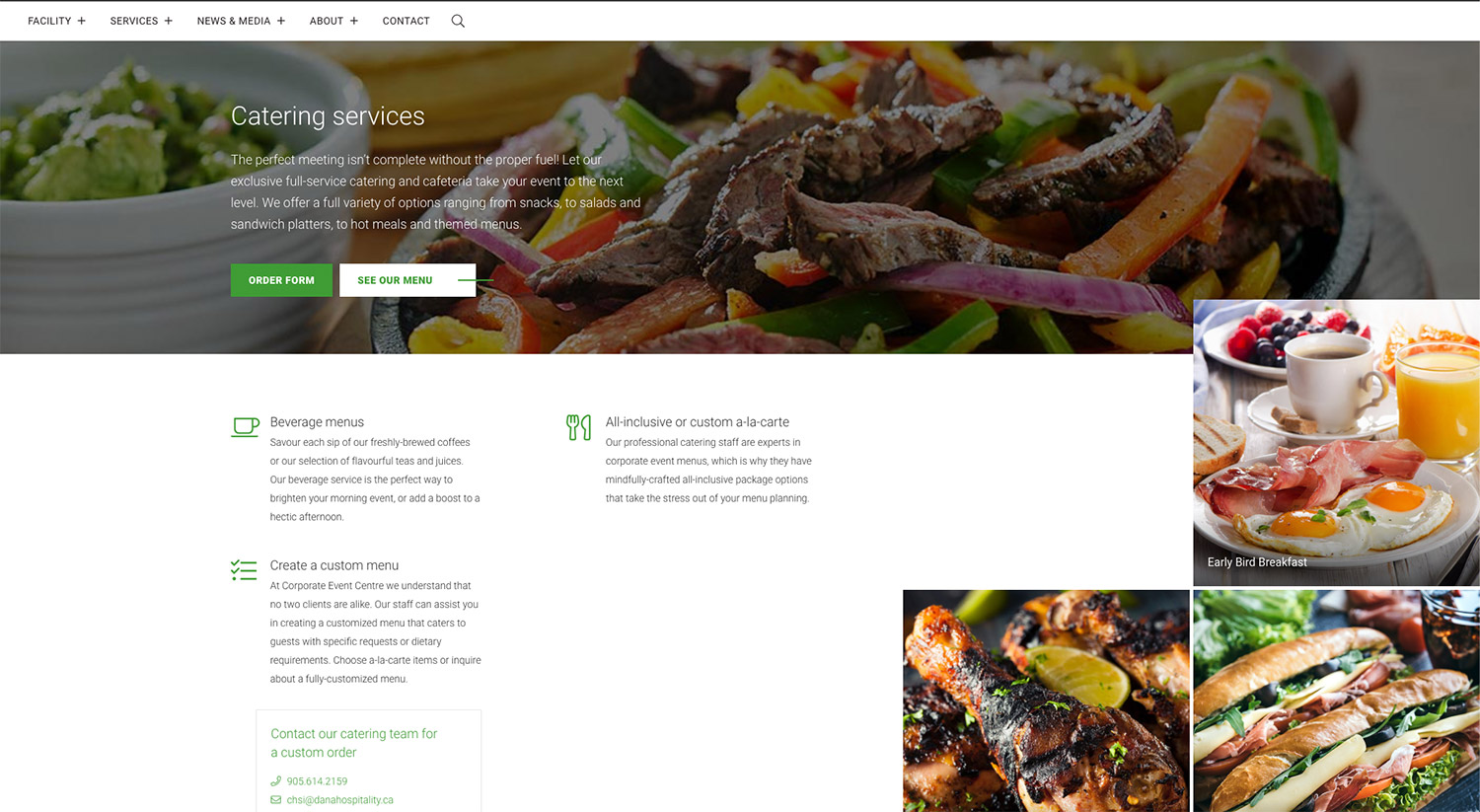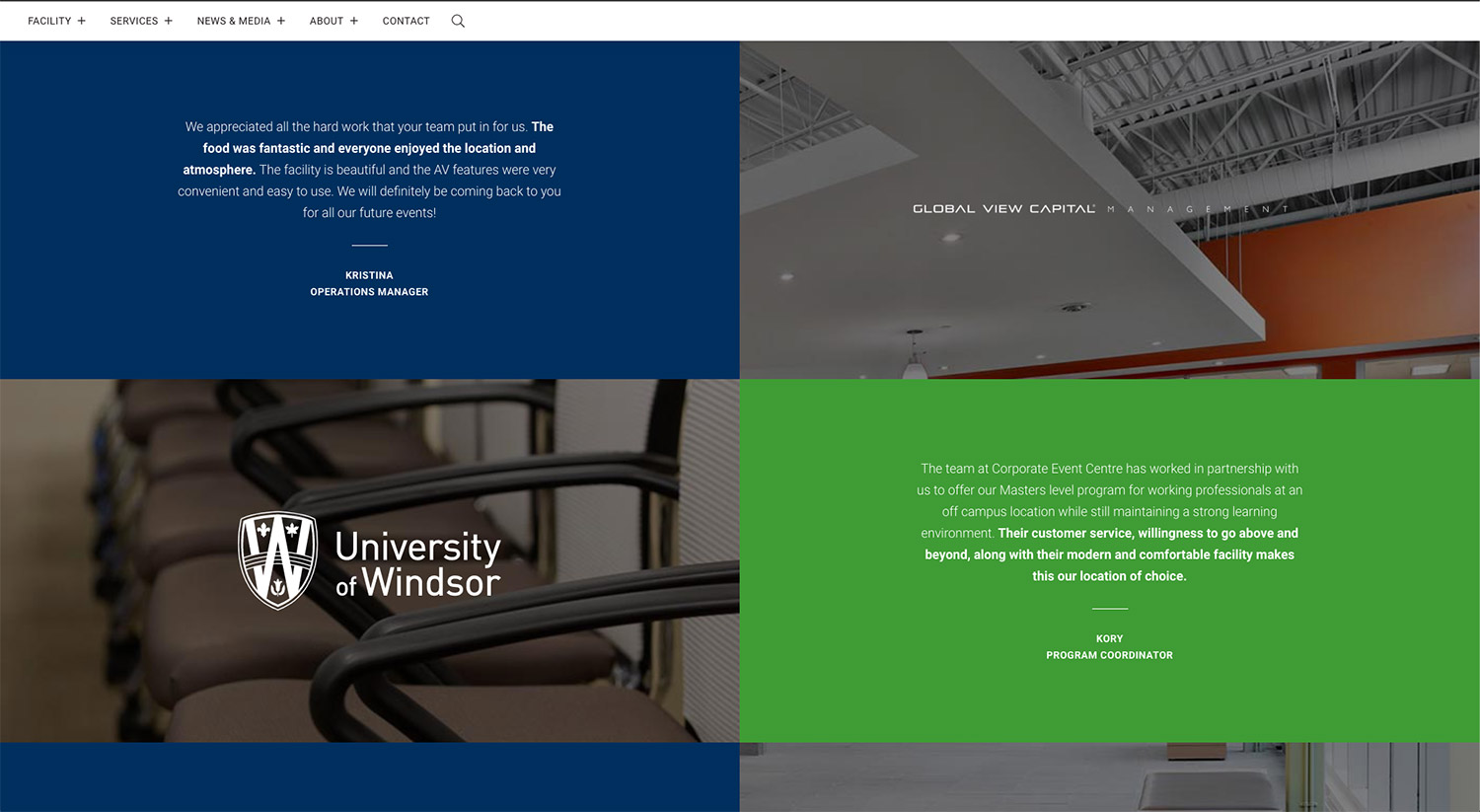 Green
#3f9c35
rgb(0,119,203) rgb(63,156,53)
CMYK 78 2 98 9

Royal Blue
#002f5f
rgb(0,47,95)
CMYK 100 68 8 52

Dark Grey
#414042
rgb(65,64,66)
CMYK 68 62 58 46

Intense Blue
#006e94
rgb(0,110,148)
CMYK 91 50 26 4

Spectra Red
#92002d
rgb(0,110,148)
CMYK 91 50 26 4

Dark Yellow
#c79a2c
rgb(199,154,44)
CMYK 22 38 100 2

With an established brand, we had to bring fresh ideas to the table to revamp the existing Corporate Events Centre brand. The logo was inspired by the concept that the rooms at the facility was highly configurable. We created a polygonal logo using the first letters of each of the words "C" "E" "C" to create a free floating multi-level logo.
The new era branding allows for the logo to be used on multiple mediums and really establishes the fluidity and configurability of the company itself.