Website Developer Vaughan
Website Developer Vaughan
Mistakes to Avoid When Hiring Your Website Developer
Because you cannot know everything about every aspect of marketing your company, you must rely on a team of professionals for help. When you are searching for a website developer for your business in Vaughan you need to avoid all of the mistakes discussed below so that you'll end up with a quality website that drives plenty of traffic to your landing pages. Make notes especially if you will be interviewing possible developers within the next few days.
1. Don't pay too little. The old adage, "you get what you pay for," is true when it comes to the skills and expertise of website developer. Keep in mind that you can't get something of quality for nothing so be prepared to pay the customary fees required from website developer in Vaughn professionals. Having a website that is attractive and that works well should be viewed as an investment in your company. If you skimp on the costs you'll end up with a website that underperforms and that doesn't bring in the amount of traffic and profits that you wanted in the first place.
2. Don't pay too much. The highest quote will not necessarily give you the best website. Do your research on website development firms, ask for personal referrals, and always contact former clients if possible. You should also not be fooled by fancy terminology that makes you think the website developer that you are interviewing is more talented than they really are.
3. Watch out for hidden fees. You may be lured in with a rate that is attractive and within your budget but check for up-sells and any additional fees that can drive the cost of having a website developed beyond your budget. Ask for a written contract and make sure that it contains all of the details that you have discussed with the website developer. You may also want to ask about guarantees that may accompany their work for you.
4. Is the website developer well-versed in Social Media and SEO? You will want both of these features incorporated into your website so experience and knowledge of them is a must. With today's consumer engaging companies on social media platforms you won't want to miss this exciting way to grow your business.
5. Avoid leaving the project to the website developer without any communications during all phases of the work. You can fix any misunderstandings and work toward a common goal if you have established a regular pattern of communication with your developer. Make sure that they listen to your ideas, offer alternatives that they know to be strong, and that you use a format for communicating that is acceptable to all parties. Talking through a problem to find a solution is works much better than having something that has to be totally redone at the end of the project.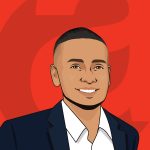 About the author
I'm nobody's taxi service but I take pride in driving the bus! Upbeat, energetic serial entrepreneur on the quest to serve and help people. I enjoy long walks on short beaches and adventurous, adrenaline-pumping activities. I'm a normal bloke doing abnormal bloke things!
Read more posts by Adam