Make a website for your Caledon Business
Ankit Designs is a website design and development company dedicated to cater our services for businesses ranging from a small to larger scale organizations. With a diversified team of proficiency specializing in search engine optimization, designing, and development, our combined fields of expertise will bring you and your company towards landing your goal. When making a website, there are particular elements that need to be acknowledged and scrutinized before showcasing your website to the public.
First, you need to know how to engage your customers with your content. When you communicate your information and services, you have to make sure that your content stays relevant and sensible. Moreover, try to make sure that your information is well organized and short. When people come by to visit your website, they normally skim through the content. If you want people to have a sense of what your company is all about, try to summarize your purpose and your services. That way, you can create convenience to your reader. Additionally, incorporating quality photos ensures credibility, which in turn, will gain trustworthiness on behalf of you and your company.
When designing a website, it is always important that your navigation and interface is user-friendly. Your website should easily guide customers and potential customers to where they want and need to be. If your website interface is clear-cut and simple, it could generate a better conversion rate, therefore gaining more revenue in your company.
By implementing the effective use of colour, maintaining relevant information, and having an organized navigation will bring promise of a high SEO standing in your local area. In Ankit Designs, we want to help you achieve your dreams.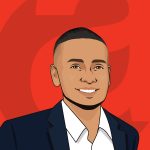 About the author
I'm nobody's taxi service but I take pride in driving the bus! Upbeat, energetic serial entrepreneur on the quest to serve and help people. I enjoy long walks on short beaches and adventurous, adrenaline-pumping activities. I'm a normal bloke doing abnormal bloke things!
Read more posts by Adam